openQRM Enterprise OpenVswitch Integration
The OpenVswitch Integration in openQRM Enterprise allows dedicated & Isolated Cloud Networks per Cloud User. This creates a Seamless Network Security Layer & VLAN Network Isolation for KVM Orchestration.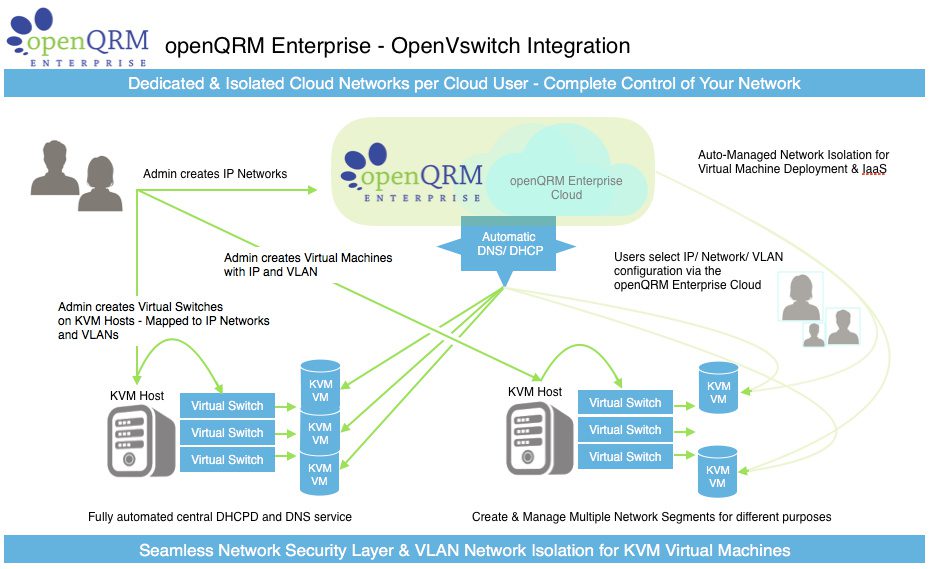 Simply create auto-managed network isolations for Virtual Machine deployment and IaaS. Combined with openQRM's advanced automated DHCP/DNS service this provides a central, multi-homed network abstraction layer including transparent VLAN Support.
openQRM is a plugin driven system-administration and IaaS Cloud Platform. Ideal for fully automated combination and collaboration of KVM and OpenVswitch for any kind of VM deployment including IaaS support (private Cloud).

This feature was developed by the openQRM team to provide a complete and seamless network security layer and VLAN network isolation for KVM Orchestration in openQRM. VM network configuration and dedicated VLANs are easily assigned with openQRMs IP-address Manager in conjunction with a fully automated central DHCPD and DNS service.

Simply map IP networks to OpenVswichtes with a few clicks to create and manage different network segments for IaaS Cloud Users and other purposes. You now have the power to administer multiple, dedicated and isolated Cloud networks per Cloud user.

Additionally, this also eliminates the need for a central management network, because the network is already centrally managed and does not require any "client" on the VM.

openQRM software provides flexibility to allocate remote storage, networking or compute resource to the existing infrastructure; enabling a seamless distributed model. openQRM manages to effectively bring together different technologies for physical systems, virtual systems and Clouds in one management interface.

With openQRM Enterprise, Sysadmins receive the flexibility and centralized management GUI perfect for IT process management in the data centre & cloud.