openQRM Enterprise - Plug-In
The Open vSwitch Network plug-in provides:
Allows dedicated & Isolated Cloud Networks per Cloud User. A Seamless Network Security Layer & VLAN Network Isolation for KVM Virtual Machines.
Simply create auto-managed network isolation for Virtual Machine deployment and IaaS. Combined with openQRM's advanced automated DHCP/DNS service this provides a central, multi-homed network abstraction layer including transparent VLAN Support.
Simply map IP networks to Open vSwitches with a few mouse clicks to create and manage different network segments for IaaS Cloud Users and other purposes. You receive the power to administer multiple, dedicated and isolated Cloud networks per Cloud user. Additionally, this also eliminates the need of a central management network since the network is centrally managed and does not require any "client" on the VM.
Fully automated combination and collaboration of KVM and Open vSwitch for any kind of VM deployment including IaaS support (private Cloud). VM network configuration and dedicated VLANs are easily assigned with openQRM's IP-address Manager in conjunction with a fully automated central DHCPD and DNS service.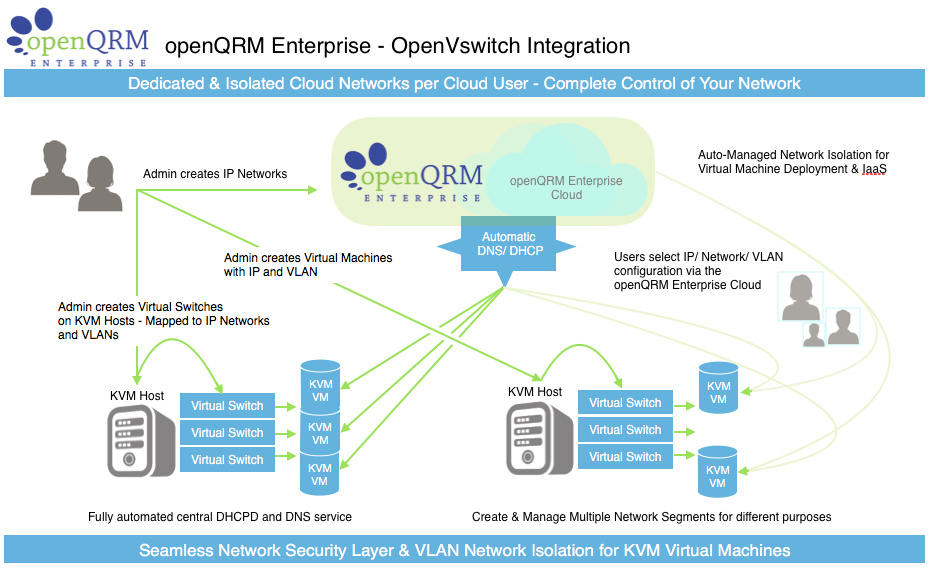 Plug-In based professional Open-Source Data Centre and Cloud Management.
openQRM is based on a generic and consistent workflow architecture. The main concept behind this is that every action in openQRM is triggered by an event in openQRM and implemented by one or more plugins to actually apply the action for a specific technology or tool. That means that the responsibility for every command in openQRM is being handed over to one or more plugins which then actually do the work.
All workflows in openQRM are abstracted independent which underlying technology or tools are used.
Additional Plug-Ins are activated in the openQRM Plugin Manager and simply need to be started.
Additional Plug-Ins are only available for the Enterprise Edition.
Simply order additional Plug-Ins in the openQRM Enterprise web-shop.