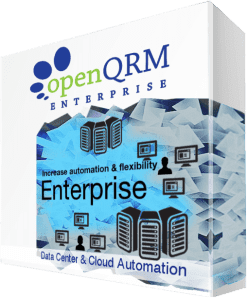 openQRM Enterprise Edition is a commercially backed, extended product for professional users offering reliable support options and additional features.
Increased automation & flexibility – Easily extend your data-centre capacity by shifting load to Amazon AWS EC2, Azure, etc.
Complete Automated Workflow Engine – Receive flexibility and a centralised management UI made for IT process management in the data centre & cloud.
Enterprise Edition Features:
Bare-Metal & VM Deployment.
Fully automated Configuration Management and Application deployment with Puppet.
Nagios and Collectd monitoring and documentation included.
Storage Plugins – Integrates with major open-source and commercial storage technologies.
Automatically manage IP-Addresses for the openQRM managed network.
Integrates existing, local-installed Servers into openQRM (Includes Remote Server).

1-year minor & security updates included.
Flexible openQRM Enterprise – Manage, Automate, Provide IT Services
openQRM Enterprise has a holistic approach to IT-Administration and is built for easy customisation. Ideal for Production Environments, R&D, and QA.