Plug-Ins Overview
openQRM is based on a generic and consistent workflow architecture. The main concept behind this is that every action in openQRM is triggered by an event in openQRM and implemented by one or more plugins to actually apply the action for a specific technology or tool.
openQRM Enterprise Edition is a commercially backed, extended product for professional users offering reliable support options and additional features.
Increased automation & flexibility – Easily extend your data-centre capacity by shifting load to Amazon AWS EC2, Azure, etc.
Complete Automated Workflow Engine – Receive flexibility and a centralised management UI made for IT process management in the data centre & cloud.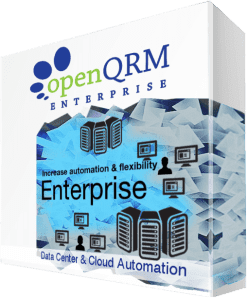 Bare-Metal & VM Deployment.
Fully automated Configuration Management and Application deployment with Puppet.
Nagios and Collectd monitoring and documentation included.
Storage Plugins – Integrates with major open-source and commercial storage technologies.
Automatically manage IP-Addresses for the openQRM managed network.
Integrates existing, local-installed Servers into openQRM (Includes Remote Server).

1-year minor & security updates included.
Flexible openQRM Enterprise – Manage, Automate, Provide IT Services
openQRM Enterprise has a holistic approach to IT-Administration and is built for easy customisation. Ideal for Production Environments, R&D, and QA.