openQRM for Managers
Management requires up-to-date information on the performance of the company's IT infrastructure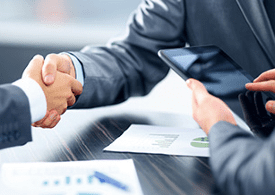 openQRM keeps up with SLAs and ensuring that system capacity, power consumption and financial processes are always aligned with the business goals, all while raising efficiency. It does this by providing automatic statistics and graphs, monitoring and SLA reporting, billing and much more to accomplish this.
Raise Efficiency while Reducing Costs
Provide IT services in a robust, standardised, high-performance and high-available way. Easily lower the Total Cost of Ownership (TCO) for your IT using our proven open-source framework openQRM Enterprise.
System Administrators gain more time and also ensure compliance through automation and standardisation.
Keep track of budgets and revenue with the comprehensive Billing overview with an interface to SAP, etc.
openQRM Enterprise is lean, flexible and extensible.
Integrates with the best Open-Source System Management tools.
Gather system performance stats and comprehensive graphs automatically with collectd.
Fulfil compliance requirements. Automatic book-keeping of all data centre objects and events in a CMDB system.
Authentication – Authenticate user and admin logins with central LDAP/Active Directory systems.
Role Administration – fine-granular user permission management system.
Internal billing and eCommerce integration – Let your IT become a service delivery centre. Even centrally manage multiple data centre Locations with the openQRM platform.