openQRM Enterprise Plug-In Development
Openqrm's plug-in based structure allows for the greatest flexibility and customization.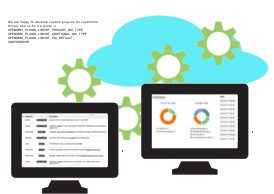 Greatest Flexibility And Customization.
We develop additional plug-ins for customers to ensure that services/ tools can be run with openQRM Enterprise. All we need is a (more or less…) well-defined API and we can start on your integration development. In most cases, the plug-in development is finished swiftly within 2-3 weeks. This, of course, depends on the scope of your application and it's API quality.
Custom Plug-Ins:
Bring your legacy software to the cloud.
Continue using tools essential for your use-case.
Custom plug-ins for Storage Support, etc.
Custom plugins for additional functionality
Custom plugins for new technologies & services
Customisation and Branding
We are happy to adapt openQRM Enterprise to your requirements and to match your corporate identity or create new Cloud Portal themes
Please contact us for individual planning and pricing: openQRM Enterprise Contact