openQRM Enterprise Workshops & Training
OpenQRM Enterprise Workshops provide a deep insight into the architecture, concepts, setup, and management of openQRM.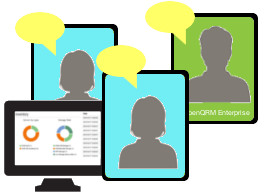 We train system administrators to easily set up and maintain openQRM cloud installations. Workshops are fine-tuned to your use-case and set-up.
Workshop days cover 6 hrs of individual training (remote or on-site) with up to 5 participants. We recommend the Basic Workshop to Admin-Teams for solid management and administration of their environment.
Basic Workshop - 2 Days
The Basic Workshop covers the following aspects of Administration with openQRM:
A detailed overview of the architecture and main concepts.
openQRM Server installation and setup.
Managing different virtualization, storage, and networking technologies.
Automated datacentre infrastructure
IaaS Cloud Computing self-service.
High-Availability and scalability.
Using the Cloud SOAP web service and API.
Please contact us for booking openQRM Enterprise Workshops: openQRM Enterprise Contact
2nd Level Workshop - 6-8 Days
The workshop provides an in-depth insight into the architecture of the openQRM data centre management and cloud computing platform. The focus of the workshop is 2nd level support stage knowledge transfer of openQRM as a central Administration environment of the existing IT infrastructure.
Workshop contents are adapted according to customer needs.
Architecture, Installation, Creating server images, Administration Phys + Virt. Systems, Rapid Deployment.
Distributed Setup, HA + scalability, Puppet, Nagios, collectd, cloud deployment, Plugin API / SOAP WebService, Storage HA.
Integrating openQRM into existing infrastructures and examples of how to integrate a data centre, live-integration of an environment.
Firewall Rules on the hosts in the network management, monitoring impactless, puppet, etc, Backup Strategies.
Monitoring strategies, Deployment Concepts.
Integration of non-supported systems such as Solaris, FreeBSD, switches, etc.
openQRM In-Depth. How to debug if "something" is not running. Targeting if you have the wrong CMDB version and solutions.
Resources, Ticket System, Event Mailer, ticket conception (saves time later). Set several support queries for the team.
OpenQRM took further: The full 2nd level experience. Integration into tools such as SAP, Jasper, etc., SOAP, MySQL.
An insight into Plug-In Development.