openQRM Enterprise - Plug-In
The Cloud front-end plug-in provides:
The openQRM Enterprise Cloud front-end plug-in. Manage your own Iaas, PaaS, SaaS Private & Public Cloud as well as bare-metal with self-service front-end and integrated billing system. Let users self-service the cloud products that you define and make available. Several different virtualisation and deployment technologies are supported by openQRM Cloud . Link to openQRM Enterprise Cloud Computing HowTo.
 openQRM Enterprise provides fully automated Cloud deployments. This means that the openQRM simply needs to create a "Server" object based on the available resources (VMs, Images, Kernels, Applications etc.) plus adding the user requested SLA (applications, monitoring, highavailability etc.).
The actual automated workflow is exactly the same as for manual deployment by an Administrator. It also means that EVERY virtualiastion and deployment types are automatically supported for openQRM Cloud deployment!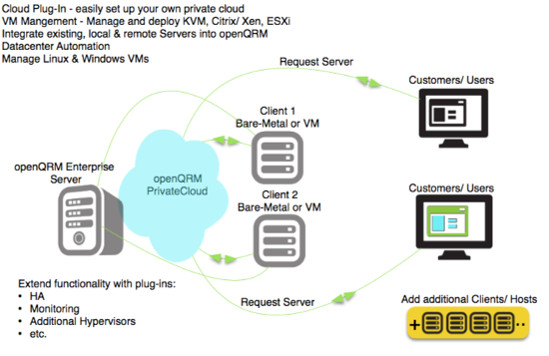 Features and technologies supported by openQRM Cloud:
Citrix XenServer Virtualisation
KVM Virtualisation
VMware Virtualisation
Libvirt Virtualisation
LXC Virtualisation
openVZ Virtualisation
Physical System deployment
Any kind of storage types
Any kind of automatic-installation (FAI, Cobbler, LinuxCOE, Opsi)
Any modern Linux AND Windows OS
Automated Monitoring (Nagios, Icinga, Zabbix)
Fully automated Highavailability for all VM types and physical Systems
Automated statistics available for Administrators and Cloud Users
Mapping different hardware-pools to specific Cloud User Groups
Integrated billing system with virtual currency - easily integrable into any modern accounting system (e.g. Quickbooks, SAP)
Provides a robust Cloud API to make the integration into custom business processes easy
NOT limited to AMI (Amazon Machine Image) deployments
Fully integrated with external Cloud providers for hybrid cloud computing (e.g. Amazon EC2, Eucalyptus)
Some of the additional available openQRM Enterprise features are:
Automated IP address assignment, mapping of network-pools to Cloud User Groups
openQRM Enterprise Cloud Zones - a central front-end for multiple openQRM Clouds in different locations (centralised data centre management)
Automated VLAN Management for Virtual Machine deployments in the openQRM Cloud
Automated Documentation for regular and Cloud deployment with i-doit
E-commerce System integration - selling cloud products/ the openQRM Cloud currency via Magento and/or Virtuemart
Central User Management via LDAP/AD
Fine grained permission management for the openoQRM Server backend - maps your business topology into openQRM
Simple access to the Cloud system for the Cloud Users by an embedded SSH Terminal
Everything above (and more) is fully supported by the openQRM Cloud!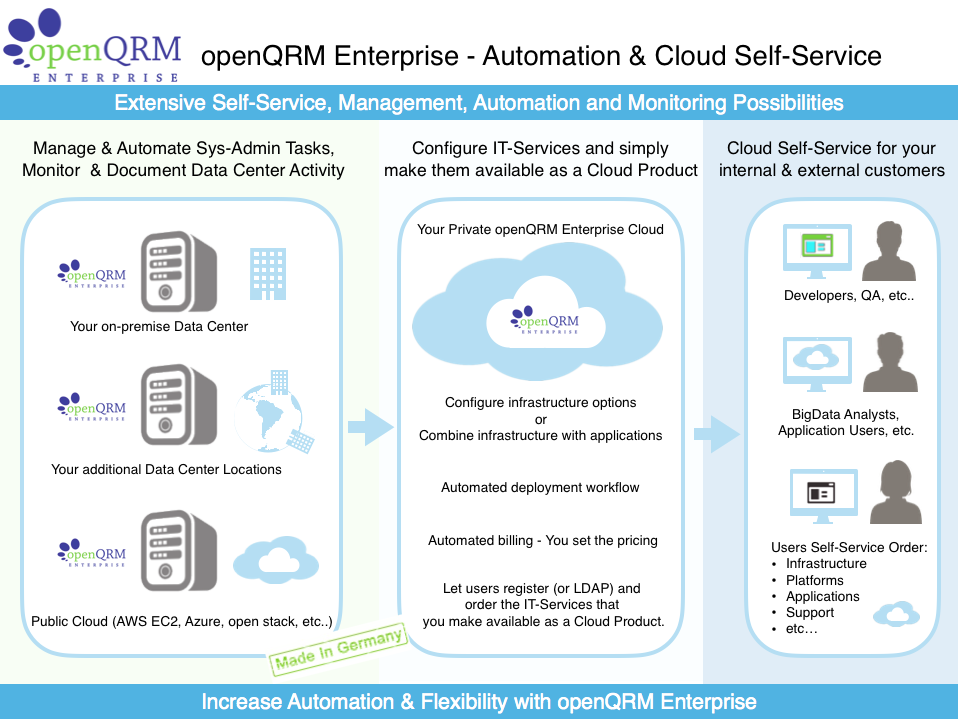 Plug-In based professional Open-Source Data Centre and Cloud Management.
openQRM is based on a generic and consistent workflow architecture. The main concept behind this is that every action in openQRM is triggered by an event in openQRM and implemented by one or more plugins to actually apply the action for a specific technology or tool. That means that the responsibility for every command in openQRM is being handed over to one or more plugins which then actually do the work.
All workflows in openQRM are abstracted independent which underlying technology or tools are used.
Additional Plug-Ins are activated in the openQRM Plugin Manager and simply need to be started.
Additional Plug-Ins are only available for the Enterprise Edition.
Simply order additional Plug-Ins in the openQRM Enterprise web-shop.